How To Annotate An Image Online in 2022
A quick tip and essential guide on how to annotate an image online in 2022 with TinySnap browser extension.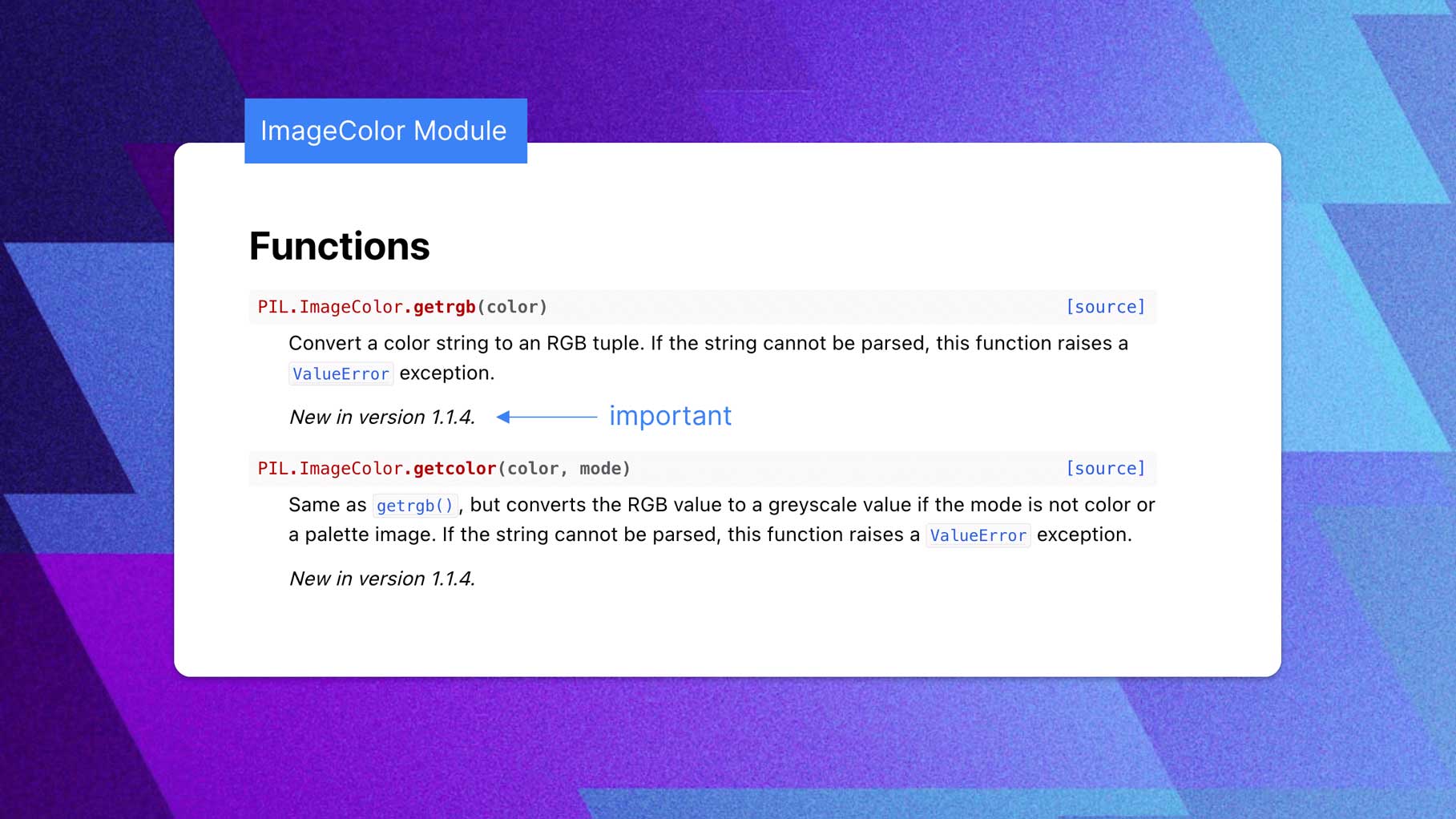 Annotating images online has evolved, and so have the tools available to make it easier. And I'm sure you remember when you had to go through a tedious process to annotate an image, you had to download an application, upload the picture, resize it, and then start adding text boxes. Annotation can be a great way to add extra information to an image, whether for personal or professional purposes.
Luckily, several online screenshot tools make it easy to annotate images. However, finding the right one at the right time and place is more critical, as thousands of online tools are available. Well, you do not need to worry about it. Here you'll find the best screenshot browser extension to help you save time and money. This process is much easier!
Why Annotating Images is Important
Annotating images is essential for several reasons. Initially, it can help you to organize and keep track of the visual information in your image. Furthermore, annotations can provide context and background information about your image, which can be helpful when sharing it with others. Finally, annotations can also help you remember the details of an image or event long after.
In addition, it is essential to ensure that you write your annotations carefully and keep everything concise so that no one gets lost in the sea of text. Including important context and background information can also help to give the image another dimension, making it more meaningful. Additionally, adding annotations to your photos can be a great way to share your creative process.
Software Applications to Annotate Images
Many online and offline software applications allow you to annotate images online. Some of the most popular ones are Adobe Photoshop, GIMP, Paint.net, and so on. Each has its features and tools that help to create annotations.
However, browser extensions are a much better option for the masses. As you may know, the Chrome Web Store has a vast selection of screenshot add-ons. And TinySnap is easily one of the best and most used annotation tools in 2022. It is best suited for those who need to complete soulful tasks quickly.
TinySnap's primary goal is to increase the productivity of artists, developers, and marketers. The product has cloud synchronization and a built-in post-processing portion. And in a perfect world, users could swiftly and efficiently take a screenshot, annotate it, and share it with everyone.
The features of the TinySnap screenshot tool
Take and save unlimited screenshots.
Add a device mockup frame, change backgrounds, and add an annotation to your image.
Select canvas ratios suitable for social media
Personalize screenshot positions.
Add numbered instructions to the screenshots.
Choose from hundreds of emojis that could express oneself more effectively.
Create the image using the code snippet
Add as many pictures as you want to the cloud.
No need to register with another service to host embeddable images.
When recovering deleted photos, there's no need to work up a sweat. TinySnap lets you recall deleted files within 30 days after deletion.
Copy to clipboard option
Instantly create HTML code, markdown snippets, or direct image links to share or embed anywhere on the internet.
Dedicated developer team to assist you in solving your issues quickly.
How to Annotate Your Image Online With TinySnap
The TinySnap annotation tool will make your screenshot editing process more user-friendly and intuitive. Here are some tips on how to annotate an image online:
Download TinySnap
TinySnap is available for all modern browsers. Visit the tinysnap.app to download and install the browser extension for your device.
Take a screenshot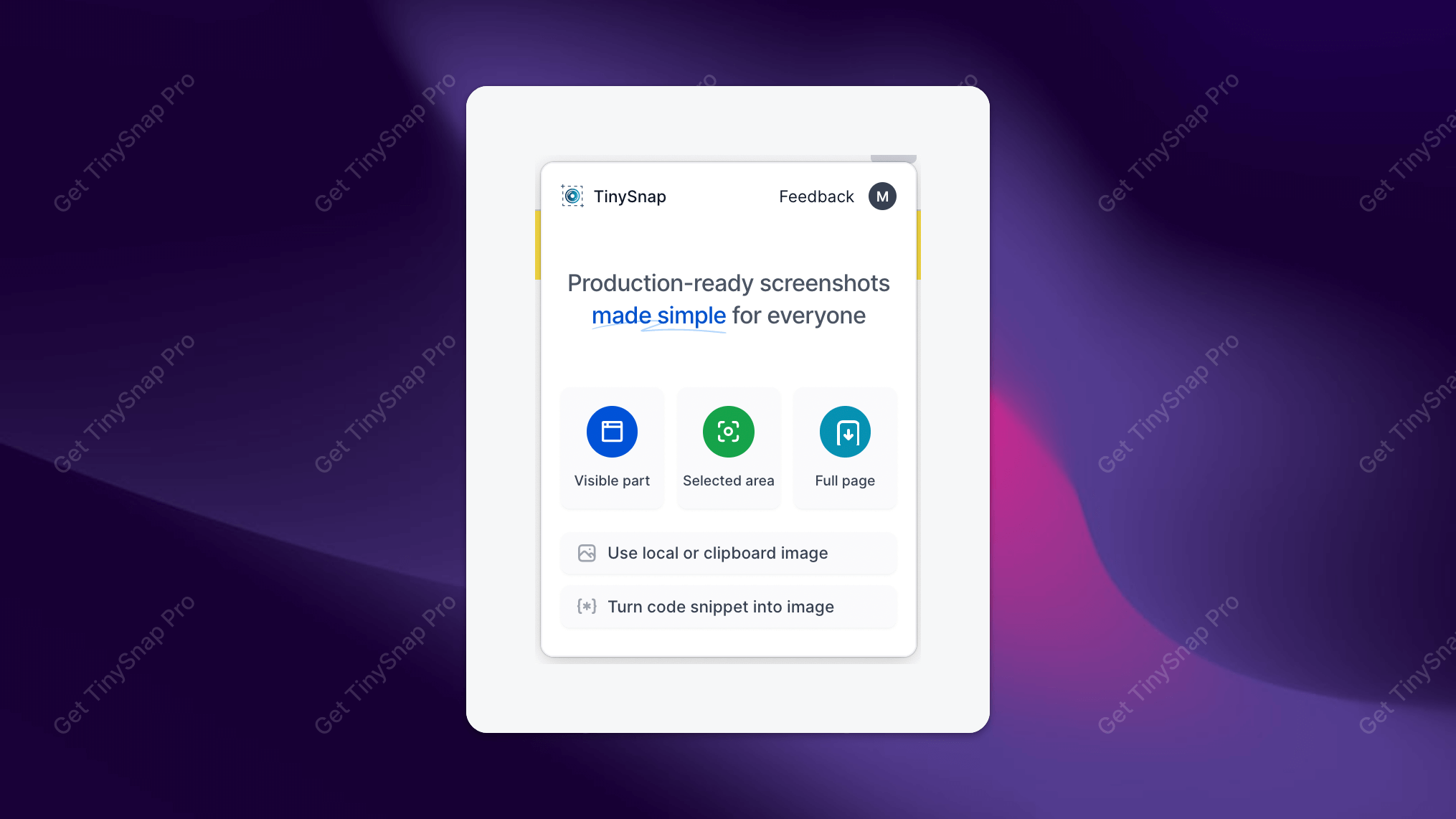 Once installed, TinySnap lets you take a screenshot of the visible part of the browser, a selected area, or the entire page.
Shortcut to screenshot visible part: Alt+Shift+V
Shortcut to screenshot selected area: Alt+Shift+S
Shortcut to screenshot full-page: Alt+Shift+P
Alternatively, you could upload an image from the local device or turn your code snippet into an image with TinySnap.
Start annotating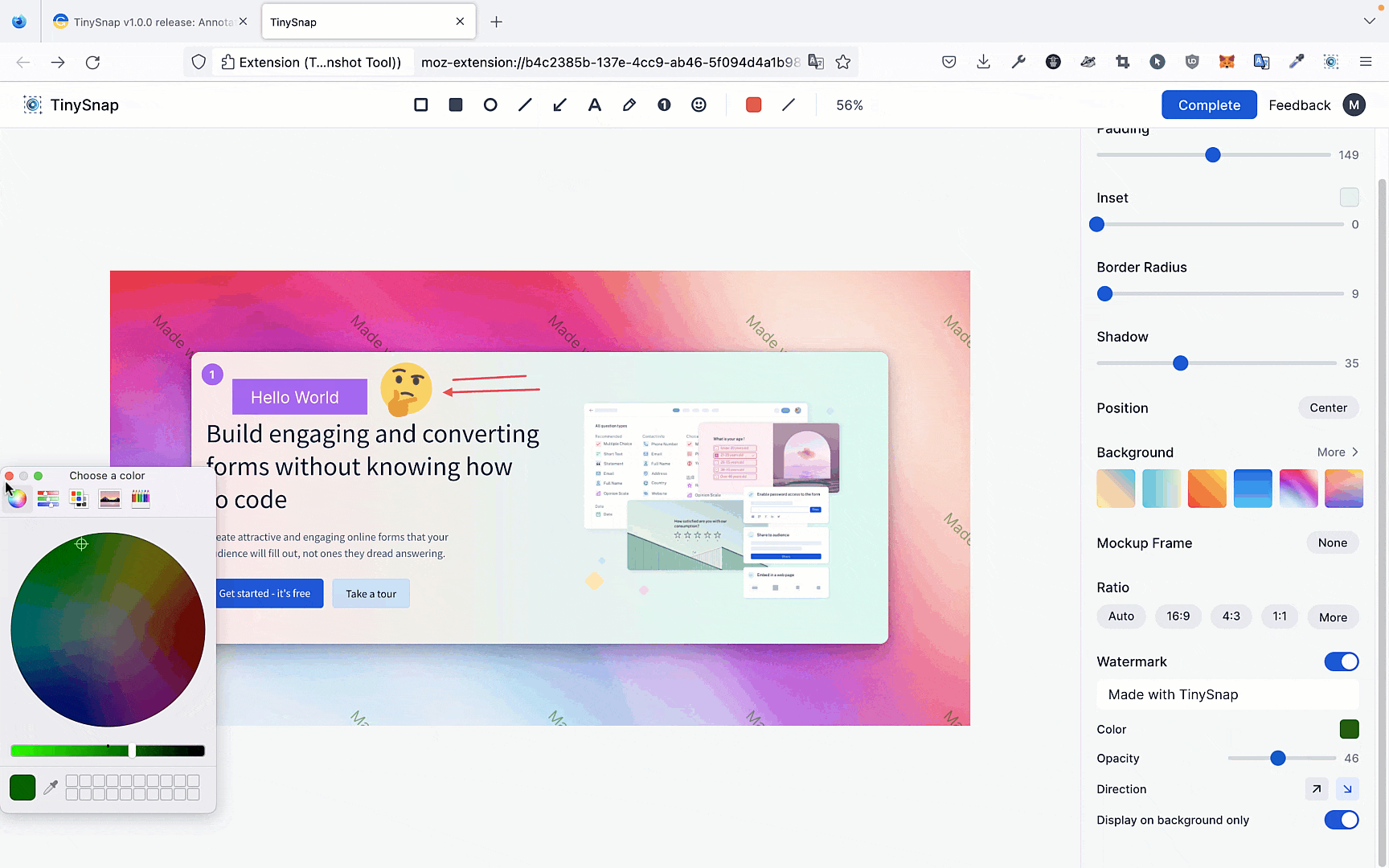 The annotation tool sits at the top center position of your TinySnap editor. The annotation toolbar is intuitive and packed with several micro tools for adding texts, symbols, emojis, shapes, pencil inputs, and color fills to your screenshot. The complete list of annotation tools and keyboard shortcuts:
Rectangle (R)
Filled rectangle (F)
Ellipse (E)
Line (L)
Arrow (A)
Text (T)
Pencil (P)
Step (S) (Pro)
Emoji (Pro)
Color preference
Line thickness
Font size preference
Once done with annotation and design, you can export your image to your device or save it to the cloud and share it with the public.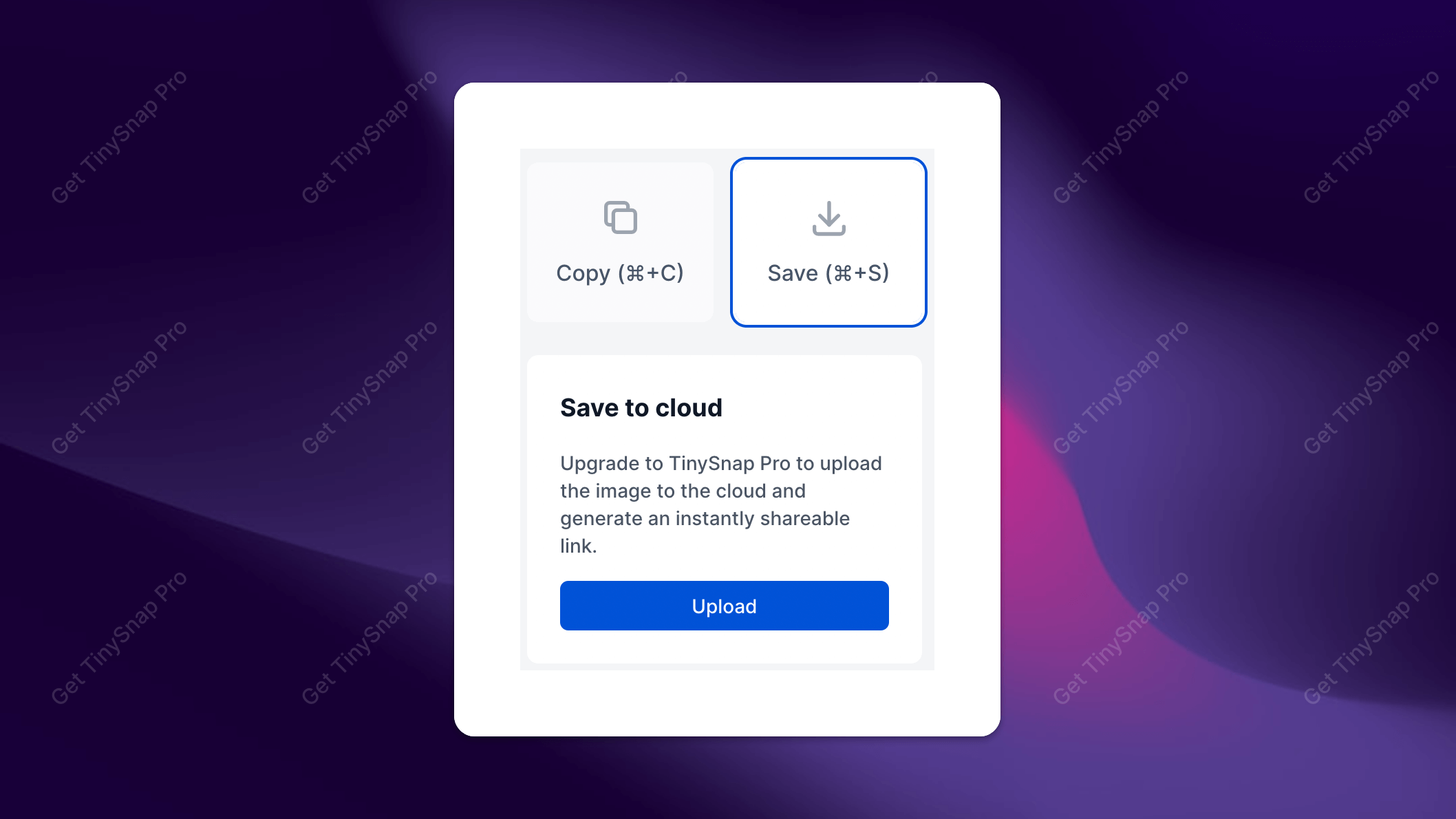 Conclusion
Annotating images is a great way to add extra information or context to them, and it can be a helpful tool for students, teachers, businesses, and more. With tools like TinySnap, annotating images online can be a breeze. Hope you find Tinysnap the best screenshot tool that makes your image annotation process more accessible in the future. Thanks for reading!